Mykonos Yacht Charters
Explore Mykonos the elegant way, aboard one of our exclusive yachts!

We at Afroudakis Yachting Ltd, are pleased to offer you a variety of Yachts primarily chosen for charter on Mykonos island.
The surrounding area of Mykonos is ideal for local cruises because it combines idyllic scenery, archaeological sites -on the island of Delos- and exceptional beaches and bays for swimming not only on the island itself, but also on the adjacent islands Rinia and Delos.
Our yachts are availabe for charter in Mykonos either for daily cruises or for longer periods, and are the especially chosen for guests that are already on the island, as well as for those planning their holidays there later in the season.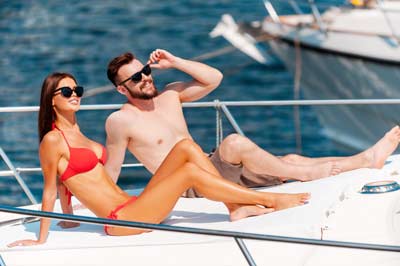 Spice up your stay in Mykonos and discover the beaches, the bays and the nearby islands by chartering one of our luxurious exclusive Yachts at the most competitive rates.
A number of activities can be included on a cruise such as swimming, fishing, snorkelling, diving and plenty of water sports and are available to you on each one of our yachts. Water sports include inflatable tubes, water ski equipment and jet skis, providing a non-stop fun time for you and your guests.
Different types of Yachts are available to meet your demands to the fullest. You can enjoy the speed and the luxury facilities of a Motor Yacht, you can live a sailor's unconventional adventure on a Sailing Yacht, or combine both the luxury and facilities of a motor yacht with the classic elegance of a sailing yacht aboard one of our exclusive Motor Sailers.
You can see our complete Yachts Catalogue by clicking here.
Our friendly and experienced Staff is always eager to assist you in choosing the right yacht for you and your family or friends, ensuring that your cruise will be an
unforgettable event.
Contact us today and take advantage of our current yacht charter offers on the cosmopolitan island of Mykonos!

Mykonos Yacht Charters Rental Services
There's a growing trend within vacation destinations and options for individuals to rent luxurious private yachts and also to spend one or two weeks sailing around some set of islands or another or simply to spend a week or two at sea away from the hustle and bustle of the office. They also enjoy being at a place out of reach of all things related to their work. They definitely have to be able to find luxury yachts to rent. This article gives detailed information about Mykonos Yacht Charters which are among the best yachts rental services providers.
Mykonos Yacht Charters Rental Services: Rent a Yacht for Any Occasion
There isn't possibly a better way to spend a day on the water in Mykonos Island than by taking advantage of Mykonos island yacht rental services. Did you know that you too can rent your very own yacht for the day? Just picture it now, you and your friends and family enjoying a day out on the water, breeze tickling your faces as you enjoy the luxury of a yacht. How about spending a romantic afternoon on the water with that special someone? Perhaps renting a yacht for a party at sea is more your style. Whatever your reasons, renting a yacht in Mykonos island is one of the best ways to experience luxury and elegance on the water.
Having fun with friends is easy on a rented yacht thanks to Mykonos island yacht rental services. Whether you are spending the day fishing, relaxing, or just having fun on a boat, you and your friends are guaranteed to have a great time. The luxury of a yacht makes it a comfortable way to spend a day on the water. Plus, a charter captain will ensure your day goes smoothly allowing you to remain worry free. Just imagine, the sea breeze softly blowing and the quiet waves lapping against the sides of the yacht. A yacht can be a very romantic setting indeed, especially for a proposal. The luxurious features of a yacht definitely add to the romance of the scene. The romance of spending an afternoon together on the water can be yours when you rent a yacht. It's a great idea for celebrating big anniversaries and Valentine's Day.
Rented yachts are also a great alternative to other land based party venue options. It's an impressive yet easy way to give a party a luxurious feel. Personal chefs are also available to cater the event, leaving you free to enjoy your party. Yachts make it easy to throw a fantastic and memorable party for any occasion. Mykonos island yacht rental services make it easy to enjoy the luxury of modern watercraft and the beauty of Mykonos Island's coastline. Rentals are fantastic for those who want a yacht to use for parties and events but do not want the hassle of staffing and maintenance. These yachts are also amazing for vacationing friends who want to spend a day on the water in luxurious style. They're also good for couples seeking the romance of being on the water while enjoying the modern comforts that a yacht provides. Rented yachts help make an occasion feel like a prestigious event every time.
Mykonos Yacht Charters: Major Features of an Efficient Yacht Rental
Exploring the world of oceans has always been adventurous. Beautiful surroundings and sea-dating environment gives a great sense of peace and satisfaction. While getting around coastal areas, you would definitely wish for a beautiful ride around best sea locations. The amazing experience of exploring oceans is nothing less than a dream come true. However, Yacht rentals provide all essential facilities to deliver an amazing experience of world's most beautiful locations.
The best features you would love to enjoy at Mykonos Island are -
Lower deck - The first and most essential feature of a luxury yacht is its lower deck. It is the place where internal elements of a boat are located. Here, you'll find engine room, crew quarters as well as few guest rooms where guests will love to sleep overnight. The entire functioning and efficiency of the yacht is based on the performance of lower deck only.
Sun Deck - A beautiful and well-maintained sun deck is also a feature of an efficient luxury yacht. It is a perfect place to enjoy delicious meals in beautiful surroundings. If you have spent enough time indoors and want to experience something new, this deck can be a good option to consider. This feature of a yacht will not only provide nice area to relax, but will also provide essential amenities like a hot tub or fitness rooms.
Luxury Yacht Tenders - Along with sun deck, luxury tenders also play a big role in enhancing the value of a water journey. There are different types of tenders or small boats to transfer people or items between the charter and shore. However, an efficient yacht should feature adequate vessels to ensure optimum convenience and safety during the journey. Presence of high quality tenders is really important for keeping everyone and everything safe.
Main deck - It is the place where you'll spend most of your time during the journey. Generally, it features high quality parlors, dining rooms, and galleries to provide high quality service to the travelers. It's one of the best and most efficient features of a luxury charter and, give best experience to the customers.
These were some features of a luxury yacht. After getting a yacht rental, you'll not only spend nice time with your family, but will also enjoy a perfect combination of brilliant services and soothing environment. All you have to do is pick a perfect rental and select the sea location which you want explore.
Conclusion
As you can see, the whole luxury yacht rental business is rather a difficult one to get into. It's a great deal like renting homes. Often the web site which charges commission will need to do some type of checks on the prospective renters to guarantee the safety of their client's property and there is often the issue of arranging a skipper and crew to deal with as well. It's a great way for luxury boat owners to acquire some help with maintaining their boats though and it is a great way for more people to enjoy a vacation on the open sea without breaking the bank too much or even having to go on a cruise ship with a large number of other people. It just must be managed very carefully though. Mykonos Yacht Charters Rental Services are highly known for their outstanding services. Try them out today and you won't regret it.